Intel® Edge Insights for Industrial FAQs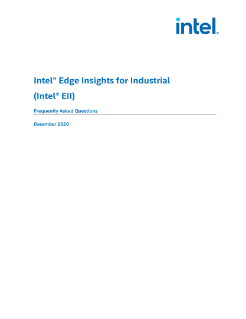 Intel® Edge Insights for Industrial FAQs
Read the Intel® Edge Insights for Industrial FAQs for information on platform technology, deployment examples, complementary technologies and support.
Welding, machining, assembly, logistics—every step in industrial production creates valuable information and an opportunity to improve your factory operations.
The Intel® Edge Insights for Industrial software package runs on Docker, an open source, microservices architecture that separates infrastructure from applications so you can develop faster.
Intel® Edge Insights for Industrial comes as a pre-validated, ready-to-deploy software reference design for video and time series data ingestion. It includes AI analysis and can publish to local applications or the cloud. Since it's built on Docker, it's simple to modify and customize for your applications.