Summary
Quick steps for Partner Admins to assign the Warranty role for Intel® Partner Alliance.
Description
How do I allow my employees to place warranty claims on behalf of our company?
Resolution
Only Partner Admins can assign the Warranty Requestor role to other employees.
This will allow your employees to submit Advanced Warranty Replacement (AWR) requests online without the need for troubleshooting.
It can take up to one business day for the changes to be reflected in the Online Support Center.
This is available only to Gold/Titanium Partner Admins in eligible IPA partner roles.
Partner Admins and Partner Admin Delegates do not need the Warranty Requestor Role; it is already built into Admin entitlements.
The role is not available to Member accounts, who are not eligible for AWR.
The role is not available to the following Partner Roles, who are ineligible for AWR: FPGA, Independent Software Vendor (ISV), Guest
Note

Corporate generic emails can be added as warranty requesters. For example : RMA@intel.com
The person to be given the Warranty Requestor role must already exist as an Employee for the Intel® Partner Alliance account.  If the new person does not exist in the Intel system, follow the instructions in How to Add a Contact to an Intel Partner Alliance Account before continuing:
STEP 1
Log in to the Intel® Partner Alliance website.
STEP 2
Click the Company Profile link.


STEP 3
Click Responsibilities, then click Manage Personnel.
Select the employee name.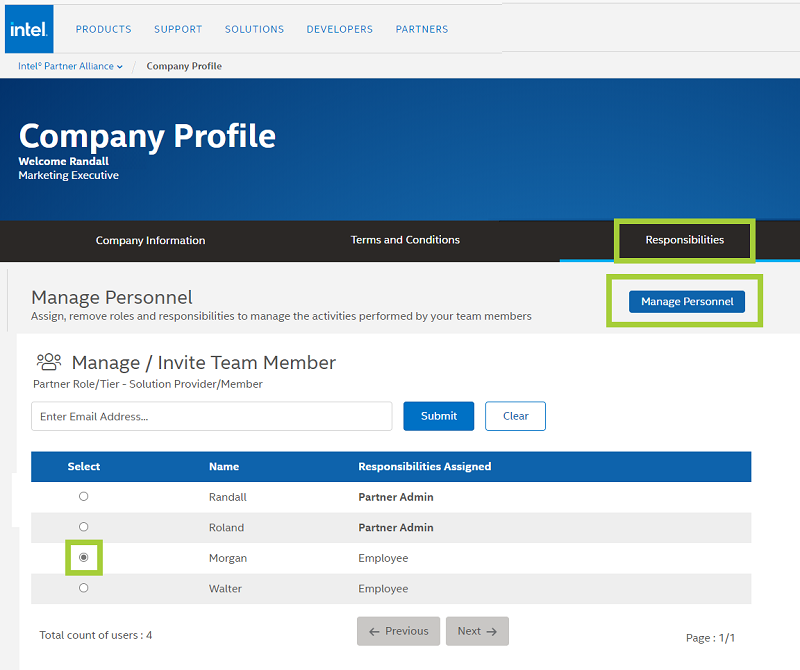 STEP 4
Select the box for Warranty Requestor Role under Access.